Who is Matt Carpenter?
I suspect the several (used to be a couple, we're growing!) baseball nerds that frequent this blog know who Matt Carpenter is. But just in case you don't, let's do a quick refresher.
Carpenter is A 6'3″, left-handed hitting first baseman for the St. Louis Cardinals. Carpenter is currently 31 years old and has played all over the diamond in his MLB career, starting in the outfield then moving to infield, where he's taken significant reps at second, third and first base.
Carpenter has been a productive MLB hitter since his full-season debut in 2012, accruing at least a 117 wRC+ and .750 OPS every season in his career. Always known for a keen eye at the plate, Carpenter's career 0.72 walk to strikeout ratio is impeccable, a number which he's improved upon in recent years. As a result of patience and plate discipline, Carpenter has been an on-base machine, never posting an on-base percentage below .365.
Carpenter struggled to hit home runs at first, accumulating only 25 over his first three seasons. However, he was always a doubles machine, posting 55 in 2014 and 33 in 2014. That doubles began to translate to home runs in 2015 when Carpenter hit a career high 28. Since 2015 his HR/AB ratio has been in the 4.4% to 4.9% range, as opposed to the 1.3% to 2.0% range from 2012 to 2014.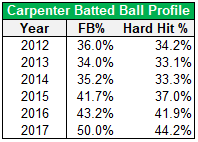 The power surge was also the result of a change in Carpenter's swing dynamics. In 2014 Carpenter hit 35.2% flyballs and had an overall hard hit rate of 33.3%. Now those statistics are up to 50.0% flyballs and a 44.2% hard hit rate in 2017. Hitting more flyballs, especially more hard hit flyballs, is a positive development for any hitter. Not surprisingly, Carpenter's slugging percentage has improved markedly over the last three seasons compared to the first half of his MLB career.
Why the Red Sox want him
What has seven heads and stinks to high heaven? While the Lernaean Hydra is an acceptable response, and might score some points on Family Feud, this is not a Greek Mythology blog. It's a baseball blog, so in this case I'm obviously referring to Boston's third base situation in 2017.
Seven players have contributed to the woeful 371 plate appearances from the Red Sox third base slot this season. The results have not been pretty, with a combined .229 batting average, .282 on-base percentage and .323 slugging percentage. Their .605 OPS is last in baseball.
Boston's third base production has been historically bad. Their 58 OPS+, which adjusts OPS for park and run-scoring environment factors, is the 15th worst of all-time dating back to 1913. It also the worst third base performance in Red Sox history. Needless to say, if the Red Sox want to do anything in the playoffs they need to upgrade their production from third base.
Why Carpenter fits
Matt Carpenter, who accrued most of his innings at first base this season, logged 3,523 innings at third base going back to 2012. He is a below average defender at third, but by no means horrible. He could step into Boston's lineup, likely in the lead off spot, and provide a massive upgrade to what's currently being trotted out there at third.
What's more, Carpenter is signed to an extremely team-friendly contract. He is due to make $13.8 million in 2018, $14.8 million in 2019 and has a team option for $18.5 million in 2020 that can be nullified with a $2 million buyout. Carpenter has consistently been a 3.5 to 6.0 win player over the last five seasons, averaging over $25 million in on-field value each season from 2013 to 2016. Even factoring in a slight decline due to age, Carpenter should easily be worth his contract for the next two years.
The one potential issue with Carpenter's remaining contract years is that he would block Rafael Devers, one of the top prospects in baseball, from playing third base. Devers, who is off to a hot start in AAA after his call-up last week, could be on Boston's roster as soon as September.
Fortunately, Carpenter's positional flexibility allows him to move around the diamond in order to accommodate Devers' arrival. Carpenter could man the hot corner for the remainder of 2017 and then move to first base for the 2018 season. First base is currently occupied by Mitch Moreland, who is a free agent after this season and unlikely to return in 2018, leaving open auditions for next year's first base spot. Carpenter could also see games at DH, an opportunity he hasn't been afforded in the National League.
Why the Cardinals do it
While Carpenter makes a lot of sense for the Red Sox, it takes two to tango. The St. Louis Cardinals have been one of baseball's most successful teams over the last decade, securing a winning season every year from 2008 to 2016. In fact, they've had only one losing season since 2000! With all of St. Louis' success, it's difficult to envision them as sellers at the trade deadline. But this might just be the year.
St. Louis is currently 46-49, 4.5 games out in the NL Central and 9.0 games out of the Wild Card. There are some real issues with St. Louis' roster construction. They don't have a single offensive starter below 26 years old, and arguably their two best players in Carpenter and Molina are 31 and 34 respectively. St. Louis could benefit from a mini tear-down that re-stocks the cupboard with some prospects on the cusp of MLB action.
Given the quality of their existing prospect system, which includes stud catcher prospect Carson Kelly, top-flight arms Luke Weaver and Jack O'Flaherty and recently acquired outfielder Tyler O'Neill, St. Louis does not figure to be out of contention for long. Adding some good prospects over this trade deadline would speed-up the rebuild and help make the team competitive again by 2019.
Hypothetical trade
Boston certainly wouldn't give up Devers for Carpenter. But power-hitting 21-year old third baseman Michael Chavis, who has 23 homers in 348 plate appearances between high-A and AA this season, can probably be had. The Red Sox might also include 23-year old utility infielder Tzu-Wei Lin, who seems like the type of jack-of-all-trades player St. Louis would value.